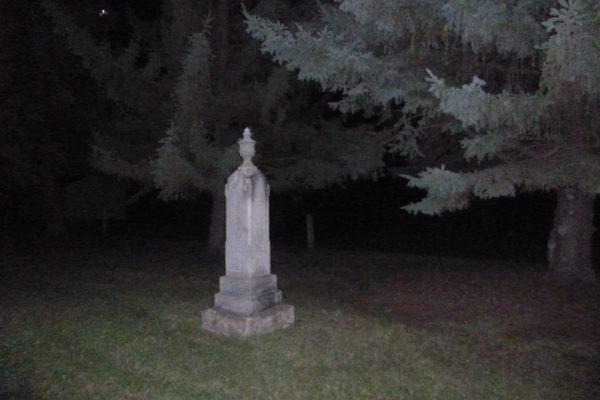 Case: Cries From Beyond
Date: September 10th, 2016
Investigators: Mike, Shawn, Emma, Jodi, Kyle, and Travis
Equipment: Mel Meter, K2, Digital Recorders, Digital Camera, SB-11, REM Pod, Vertical Parascope, Rook, and Full Spectrum Glasses
Claims: Disembodied voices, Full Bodied Apparitions, Shadow Play, Screams, Sounds of Children playing, A woman in white, glowing tombstones
Description: The recorder was going at command center while Mike was still unpacking, and hanging out, equipment. While seeing what Shawn wanted, a loud voice is captured saying "Hama". No idea what it means.
Description: While Mike, Kyle, and Emma are walking towards the far side of the cemetery for their session, a voice is heard saying "You Gettin' Over There".
Description: During the first EVP session with Mike, Kyle, and Emma, a voice can be heard saying "Put Your Hands on Her". This came just before Emma felt like she was being touched.
Description: The team is finishing an SB7 session and Mike picks it up to start walking back to the car with the SB7 still going. Just as he is about to start walking, a voice comes thru the SB7 and says "Thank you"
Description: While still doing the SB7 session, the Parascope, which is in Kyle's hands, continues to go off, and Mike just heard a disembodied male voice for the second time. In order to hear it clearer, he shuts the SB7. Right after a very faint male voice can be heard saying "Don't be afraid".